CITY BUKITTINGGI
---
Sianok Canyon. A green, long and steep canyon. One of the most beautiful natural scenery in West Sumatra. You can enjoy the beautiness from Panorama Park. There is a two-storey observation tower that overlooks the Sianok Canyon at the park. The monkeys there are friendly but they can be quite aggressive, especially if they know you have food. During dusk you can observe megabats flying from the gorges to the forest in order to feed from the fruits on the trees. Another way to enjoy the canyon is by walk down the canyon through the The Great Wall of Koto Gadang . Along the walk, you'll see rice fields, forest, and a little river, and of course, the beautiful canyons as the backgound. There's a little clear river on the valley floor. One of the most iconic canyon is Tabiang Takuruang (means, isolated gorge) . It's a single isolated slim gorge surrounded by the canyons. You can't see the gorge from neither Panorama Park nor The Great Wall of Koto Gadang. To get to Tabiang Takuruang, you should go down the canyon and trace the street through the village.
---
Japanese Caves. A network of underground bunkers and tunnels built by local people under the Japanese's army order during World War II. The entrance of the tunnel is located in Panorama Park
---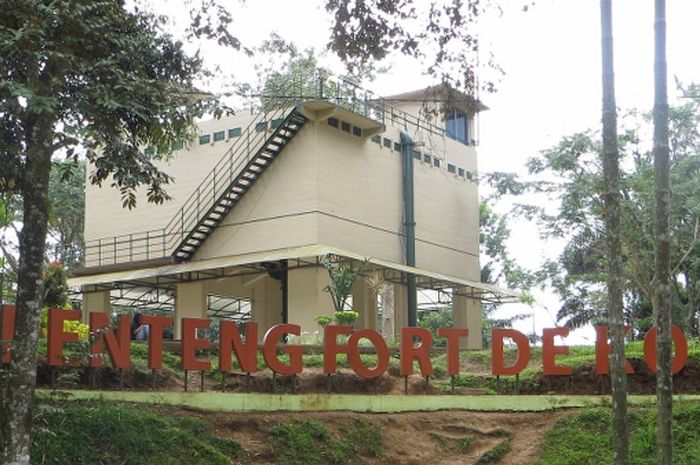 Fort de Kock. A fort built by the Dutch (actually, it's just a little outpost tower). It's located in a nice park with several species of bird in cages. It is arguable whether some of these birds should be kept in such conditions. For instance, a Sea Eagle is kept in a cage with inadequate space for its size and habits. The park is located on the top of a hill, so you can see the panoramic view of the town from the park.
---
Limpapeh Bridge. A pedestrian overpass connects the Fort de Kock on one hill to Bukittinggi Zoo on another hill. It's a beautiful bridge with Minangkabau architecture.
---
Bukittinggi Zoo. The town's zoo, located on the top of a hill, opposite to the hill of Fort de Kock. It's so not a world class-zoo. Some people may not be comfortable visiting this zoo due to the very bad maintenance and the very stressful conditions under which the animals are kept. Two elephants have their tusks shortened and one front leg and one hind leg locked in taut chains so that their movement is limited to but one pace back and forth all the time. A Sumatran tiger seems to have had one paw freshly amputated as of Feb 2013. Two pelicans are kept in an enclosure with a very low-hanging wire ceiling, which prevents them from flying at all. A herd of deer sniff around for food on grounds composed largely of their own filth. A family of porcupines share extremely cramped quarters and an alpha male orang utan sits alone in its cage with deadened eyes.
---
Rumah Gadang Baanjuang. A rumah gadang (Minangkabau traditional house) used as a museum of Minangkabau culture and history. There's also a collection of strange animals. It's located inside the Bukittingi Zoo.
---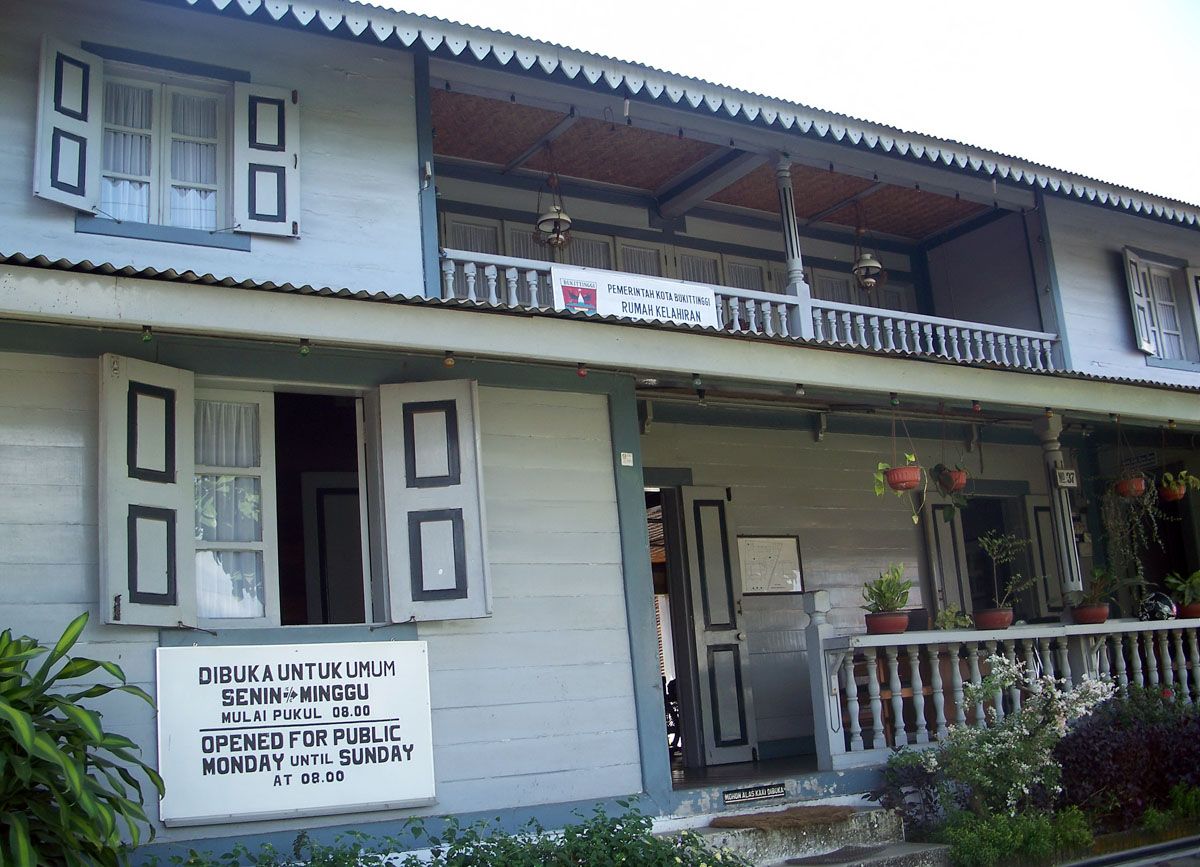 The Birth House of Bung Hatta. Muhammad Hatta (Bung Hatta) is the first vice president of Republic of Indonesia. The house is a reminiscent of traditional Minangkabau rural house and custom. The house also has the collection of Hatta and Hatta's family stuffs.
---
Jam Gadang. Means, The Great Clock. This is the main landmark of Bukittinggi. It's an old high clock tower built by Dutch with Bagonjong roof (Minangkabau traditional roof) on the top of the tower. Jam Gadang is stand proudly at the center of the town square. Jam Gadang bustles with little stalls selling food and souvenirs throughout the day. Lots of tourists gather there. Food stalls unfold with variety and aroma towards nightfall. The atmosphere is festive with colourful lights at night and it can get quite crowded. While Bukittinggi is considered safer than most other parts of Indonesia, it would still be a good idea to keep your bags close in this crowded area. There are horse carriages waiting around the Jam Gadang square. Please be cautioned that the rides are very costly, therefore please ask for their rates first. Across the square is a traditional tourist markets, called Pasar Atas and Pasar Bawah. Many goods sold there, from souvenirs, handicrafts, textiles, traditional food, traditional snacks, to fresh fruits, vegetables, chicken, meat and fish. Behind the market is the town's old Chinatown with many old shophouses. On the other side of the Jam Gadang Square is The Palace of Bung Hatta. It's a historical building, originally as the palace of Indonesia's first vice president, Muhammad Hatta. Beside the palace is The Hills Hotel, a five star hotel in a historical building with rich European and Middle Eastern architecture. On the other side of Jam Gadang Square is a mall called, Bukittinggi Plaza.
---
LAKE MANINJAU
Lake Maninjau is a large crater lake in West Sumatra, Indonesia with several villages bordering it. It is a great place to relax, experience local rural lifestyle and watch the sunsets. The lake also supports swimming, canning and fishing. The villages themselves are small and great for escaping the hectic pace of Indonesia. Unfortunately, as tourist numbers decreased drastically during the last decade, many locals turned to fish farming. The still growing number of fish farms is apparently more then the lake can handle, with the water quality decreasing from year to year. More tourists are turned away, hence more fish farms pop up and so on…a vicious circle. Still, if you don't come for swimming, there are still many reasons to come here and support the local tourist infrastructure – while, if you care, at the same time contributing to the rising awareness about the ecological fiasco the lake is undergoing.
You can see the view of Lake Maninjau from height from Puncak Lawang, a pine hill park around the lake. You can also do paragliding here with the beauty of Lake Maninjau as the background scenery.
You can also see the view of Lake Maninjau as you go down to the lake and town through Kelok 44, the 44 road bends with forest and rice field surrounding.
See the lake on the lakeside and watch the blood red sunset.
Visit the traditional farmer and fisherman villages.
Visit the Birth House of Buya Hamka. He is an Indonesian famous historical ulema and litterateur. His house is a beautiful rumah gadang at the lakeside. The house has the collection of Hamka and Hamka's family items.
source : wikitravel
---
MANDEH ISLANDS PESISIR SELATAN
In Mandeh Bay there are tourist areas, precisely in Koto XI Tarusan Subdistrict, South Pesisir with direct boundary with Padang City. This area is only 56 km from Padang with Area of ​​± 18,000 ha and travel time about 56 minutes. Mandeh Tourism Area covers 7 villages in 3 villages inhabited by 9,931 people with livestock farming, livestock and fishing. Area attractions Mandeh (Mandeh Resort) is well known both nationally and internationally with the presence of foreign investment (Italy), developing a tourist resort known as Cubadak Paradiso. Even Mandeh Region has become the main destination of maritime tourism sector policy incorporated into the National Tourism Development Master Plan (RIPPNAS) with Biak and Bunaken. Mandeh Tourism Area is very promising to be an investment destination.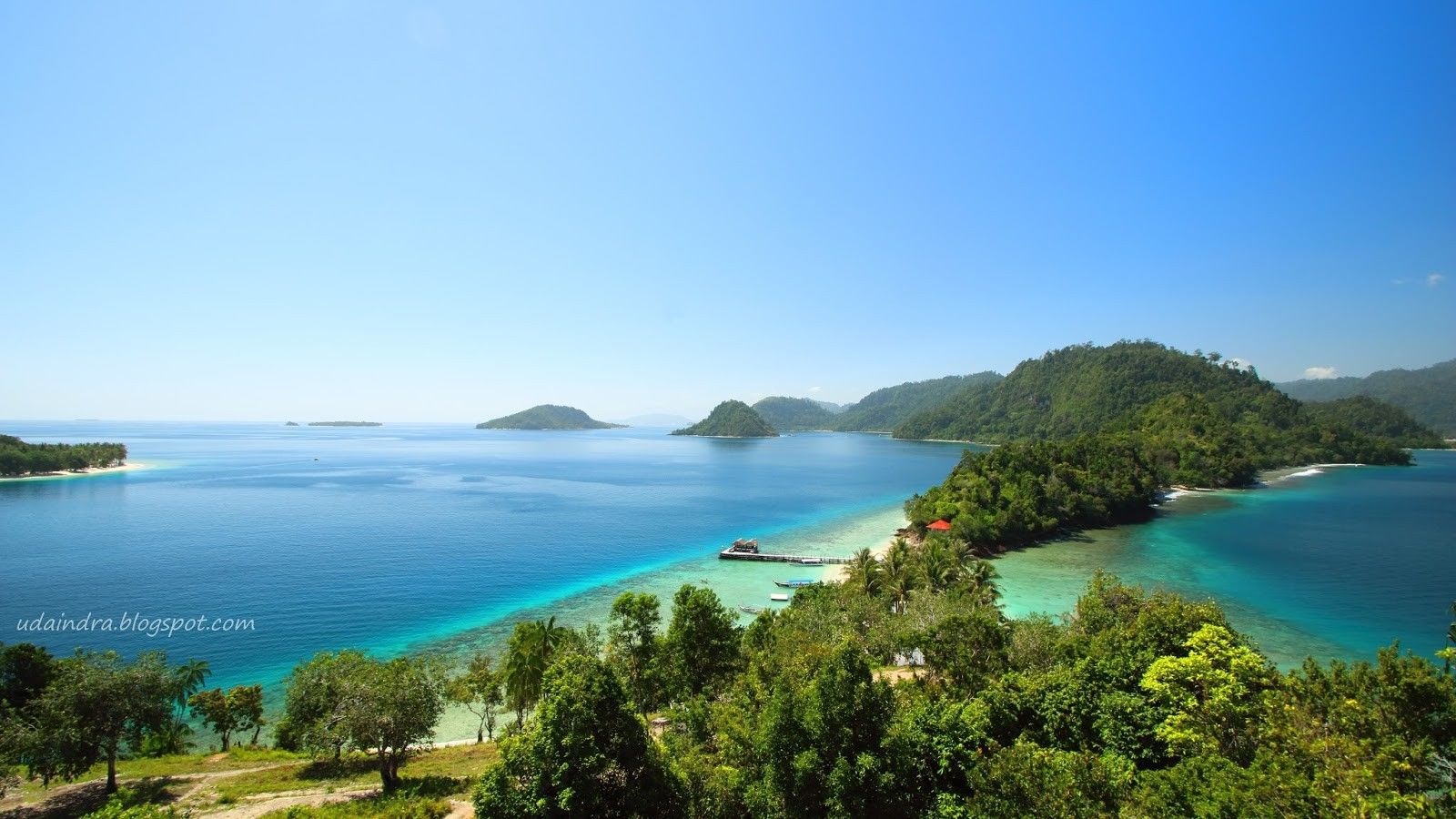 This location is referred to as Mandeh Resort because one of the villages in this area named Kampung Mandeh, which is famous in the middle of Carocok Bay Tarusan. Carocok Bay Tarusan is quite gentle and not choppy because around it there are several small islands such as Traju Island, Big and Small Devil Island, Sironjong Island Big and Small, in addition of course Cubadak Island. While in the south of this area precisely in Kampung Carocok there is a promontory curled like a hook, so the bay looks like a stunning lake with ripples that always sing unceasingly.
On the north side of Mandeh area there are several islands that are circular: Pulau Bintangor, Pulau Pagang, Pulau Ular, and Pulau Marak side by side with Sikuai Island. Along the coast from Kampung Sungai Pisang to Kampung Carocok the area is quite sloping and white sand with some trees such as coconut trees, waru trees, jackfruit trees, and so forth. Seven villages from 3 villages in this region are included in the tourism development area, namely Mudiak Air Village, Simpang Carocok Village, Karam Island Village, Nyalo River Village, Sungai Tawar Village, Sungai Pinang Village, and Teluk Raya Village. Residents around the famous Mandeh area are quite friendly and quickly mingle with migrant communities, even like helping.
It is not to be imagined, if the region is dubbed with The Paradise in the South, it means in the southern part of West Sumatra Province. It is in heaven that all peace can be obtained. Locals take advantage of the peace and peace of this bay by sailing it, diving, and sailing by fishing vessels. Even tourists who come here often take advantage of this sea lake to swim from one island to another island, in addition of course also to dive, witness the beauty of the seabed with various shapes and types of shells and fish that live there.
Mandeh Area Entry Gate can be reached by sea and road. If the boat ride can be from the Port of Bungus, Gaung, Bayur Bay or from the Port of Muara Padang and Tarusan Bay. Meanwhile, if by road, there are three alternatives from three different roads. The first alternative of Tarusan Market is via Simpang Carocok, and the second alternative from Bungus continues to Pinang River and Nyalo River. The latest road is through Carocok continues along the shoreline and hills sloping along the 12.5 km.
source : wikipedia